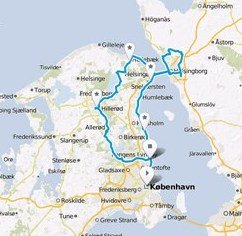 This tour is easy with short stages and lots to see; therefore it is also very suitable for families.
You will start and finish in Copenhagen, the Bike Capital of the World. Come and see for yourself and be a part of it! Experiencing Copenhagen on your bike is something you will never forget.
See the Royal Palace housing our Queen, the Little Mermaid, the amusement park Tivoli and "Strøget", one of the longest pedestrian streets in the world.
North of Copenhagen you will be biking through the fashionable and royal North Zealand, where you can see castles, picturesque nature and some of the most expensive addresses in Denmark.
You will bike along wonderful coastlines (don't forget your swimwear), pass by charming Marinas, and you will have the opportunity to make a small roundtrip in Sweden.
It is a very relaxed and safe bike tour with plenty of nice picnic places, charming beaches and a lot of attractions for children as well as for adults.
Itinerary:
Day 1: Arrival in Copenhagen.
Arrive at your hotel and free time to explore The Bike Capital of the World with Nyhavn, the Royal Castle, Christiania, and Tivoli.
Overnight stay in the centre of Copenhagen.
Day 2: Copenhagen-Hørsholm. 30 km
Riding through Copenhagen on your bike is a fantastic start on your tour. You pass some of the famous sights such as the Little Mermaid, and go north towards Hellerup and Klampenborg where you can enjoy the sight of some of the most fashionable houses and you will pass the famous beach "Bellevue".
In Dyrehaven, the Royal hunting grounds, you will be riding on peaceful paths surrounded by century old trees and curious deer. Located here is also "Bakken", one of the world's oldest amusement parks, where is it possible to stop for a refreshment. From here you follow Strandvejen along the coastline, before reaching your hotel in Hørsholm.
Overnight stay in Hørsholm.
Day 3: Hørsholm-Helsingør (Elsinore). Approx 20 km
Today you will be riding along the coastline all day. Going north following Strandvejen with beautiful views over the sea - Øresund, you will see impressive houses, small boutiques and nice places for a break.
At Rungsted you can visit the home of the Danish author Karen Blixen (famous for "Out of Africa") and in Humlebæk you can visit the Museum of Modern Art "Louisiana", famous not only for its exhibitions but also for its beautiful architecture and location. You will end up in Helsingoer, and after an easy day on the bike you might wish to spend the afternoon visiting the old borough with the impressive Kron- borg Castle (the castle from Shakespeare's play "Hamlet").
Overnight stay in Helsingør area.
Day 4: Roundtrip in Sweden and Helsingør. 35 km.
If you missed Kronborg yesterday you will have the chance today.
The highlights of the day might be the Danish Maritime Museum listed among "52 places to go in 2014" by New York Times. If you still have plenty of time, you can take the ferry (runs every 15 minutes) to Helsingborg (Sweden). From here you can take a round trip of approx. 35 kilometres along the coast to beaches and small fishing villages and back through the Swedish forests and fields.
Overnight stay in Helsingør area.
Day 5: Helsingør – Hillerød. 41 km/ 51 km
Today you can visit 2 of the most beautiful Danish castles. You start along the coast to Hornbæk, a small fishing village with tempting places for "time outs" and a sea bath.
Bike along one of the deepest lakes in Denmark towards Hillerød. If you want to visit The Queen's summer residence Fredensborg Castle, you can extend the tour with approx. 10 km. Take a walk in the park, if the Queen is not there. It is a beautiful "fairy tale palace" from the 18th century with a unique interior.
On your arrival to Hillerød, you go along the lake to Frederiksborg Castle with its perfect location at the lakeside.
Overnight stay near the historical centre in Hillerød.
Day 6: Hillerød – Copenhagen. 38 km or 18 km + train
Heading south towards Copenhagen you pass idyllic sceneries, lovely forests and wetlands with a rich birdlife.
You will be impressed by the rich nature in a densely populated area close to the capital. You will be amazed how easy it is by bike to cycle from the green northern Zealand to the capital of Denmark.
While the first 18 kilometres towards Farum are on winding paths and smaller roads, the last 20 kilometres are along the new "supercykelsti" (Cycle highway), that brings all the commuting cyclists to Copenhagen. When you come to Nørrebro, which is one of the most colourful neighbourhoods in Copenhagen, you have to slow down and be aware of all the different cyclists heading towards the city centre.
Overnight stay in the centre of Copenhagen.
Day 7: Check out
Check out or use the possibility to extend your stay with a few additional days in Copenhagen.