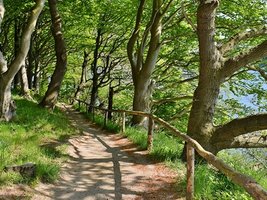 From 648 Euro
This tour takes you round the Little Belt and the three major cities Middelfart, Fredericia and Kolding. The cycling is comfortable with only few hills and max length of 37.1 km per day. Suggested detours are provided, should you wish to prolong your daily distances.
The area around Little Belt is treasured for its unique landscape formed during the ice age. The narrow strait winds between the island of Funen (Fyn) and the Jutland peninsula, connecting the Baltic Sea with Kattegat.
You start in Middelfart, where you can try Bridgewalking and Whale Watching. You cycle across the Belt to Fredericia and the historic ramparts and pass beaches and hills on the way to Kolding and the impressive Kolding Hus Castle.
From Kolding you can take an optional day trip to the picturesque World Cultural Heritage Site Christiansfeld (round trip 70 km).
Itinerary:
Day 1: Arrival in Middelfart (Funen)
Arrive at your hotel and explore Middelfart, which is a market town dating back to 1231. Familiarize yourself with your bicycle and cycle to the old parts of town. Enjoy the charms of the Old Harbour and a refreshment by the edge of the Belt overlooking the two bridges.
Overnight stay in Middelfart.
Day 2: Middelfart to Fredericia (Jutland) - 33,2 km
Woods, Water and Whales.
Today's stretch takes you north with the Staurby Woods on your right and the Little Belt on your left as you cycle to Strib, which was the base for the world's first Harbour porpoise research station.
Continue along the beaches and past the popular summer cottage areas, through small villages with halftimbered houses before returning to Middelfart* and continuing south to the Hindsgavl Peninsula and through the Hindsgavl Deer Park past the splendid Hindsgavl Castle. Cross the Old Little Belt Bridge.
*Suggested detour for Groups +14,5 km: Before returning to Middelfart turn east onto Route161 and continue to Nørre Aaby and the Indslev MicroBrewery.
Overnight stay in Fredericia
Day 3: Roundtrip from Fredericia - 13,5 km
Optional: Bridgewalking, Deers, Ceramics and Whales (13,5 km)
From your hotel you return across the bridge to Middelfart, where the first stop is Bridgewalking.
60 metres above sea level you will have a splendid view of the Little Belt, your hotel and most of tomorrow's stretch.
From Bridgewalking there is a short cycling tour to CLAY Museum of Ceramic Arts, and a visit here is an absolute must. A unique chance to see more than 235 years of ceramic design and craftsmanship from Royal Copenhagen, Bing & Grøndahl and Aluminia donated by Royal Copenhagen.
From CLAY you continue to The Old Harbour and join one of the Whale Watching Tours. 2 or 3 hours on the Little Belt with whale watching guaranteed.
Please note:
The Whale Watching tours are only available in July and August.
Book Whale Watching here: www.visitlillebaelt.com.
Book BridgeWalking here: www.bridgewalking.dk
Overnight stay in Fredericia
Dag 4: Fredericia to Kolding (Jutland) - 37,1 km
Religion, Ramparts and valleys
In Fredericia the Ramparts are a striking townscape feature, surrounding the old town center. In 1674, the town was declared a religious sanctuary where all Christian faiths as well as Jews were welcomed. From Fredericia you go south past Elbodalen Valley, which stretches all the way to Vejle. Here, you cycle through a stunning and varied landscape with a large diversity of flora and fauna, including rare birds and orchids.
*Suggested detour for Groups + 1,5 km: MoDaVi – a Danish vineyard which has received several awards for their wines.
Call +45 2370 2379 for prior appointment.
Overnight stay in Kolding
Day 5: Roundtrip from Kolding - 70 km
Optional: round trip to UNESCO Christiansfeld - Beaches, Bretherens and Ginger bread (70 km)
From Kolding you cycle along the Rebæk Beach past Skamlingsbanken, which is the highest point
in South Jutland (113 m). Regional celebrations take place annually by the tall memorial column.
The Moravian Church and their bretherens founded Christiansfeld in 1773, and they named it after King Christian VII. The unique layout and architecture has put Christiansfeld on the UNESCO World Heritage List. Don't miss their famous Ginger Bread cakes before you return to Kolding via Route 170, which takes you past Skamlingsbanken, a popular national meeting place since 1843.
Optional: Renaissance interiors and Modern Danish Design (13,5 km)
For those who prefer to stay in Kolding we recommend that you take in the major local attractions. On top of a hill in the middle of town, is Koldinghus castle. The Castle dates back to 1268 and was rebuilt in the 16th century. Today, Koldinghus is a museum and their collection includes interiors from the 1500s as well as changing exhibitions.
For connoisseurs of modern Danish design Trapholt is the place to go. It has Denmark's largest collection of 20th century designer chairs and Arne Jacobsens unique holiday house. The museum is located in a sculpture park overlooking Kolding Fjord. The Café serves organic homecooked meals and snacks.
Overnight stay in Kolding
Day 6: Kolding to Middelfart - 30,6 km
The route back to Middelfart follows the sea along Strandvejen, with a view of the fabulous Kolding Fjord and past Birkemose Golf Club.
The route then turns on to small country lanes, through Elbodalen and across the waters on the Old Little Belt Bridge before arriving at Severin.
Overnight stay Middelfart
Day 7:
Check out and departure. We highly recommend that you extend the tour with a stay in Odense for a visit at the Hans Christian Andersen Museum and the Open Air Museum. Or just to enjoy the relaxed atmosphere in the city center.
OPTION.
Extra days in Odense. By foot or by bike. Odense offer free 24h use rent of city bikes.