Cycling the Dane way
The do's
How to navigate in the traffic
Follow these simple rules and you will blend into the Danish traffic environment.
Following these rules will also help you be understood by other cyclists, cars and busses in the traffic.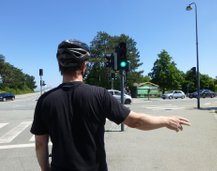 Indicate that you wish to turn to the right
When turning to the right, hold out our
arm to the right. Same goes of course when you
want to turn left.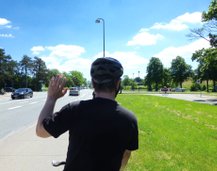 Indicate that you wish to stop
If for example you want to stop when
cycling the cycle lane - hold up your left arm
a few seconds before stopping.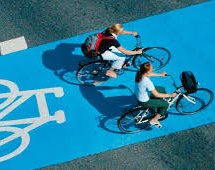 Overtaking other cyclists on the cycle lane
Look back over your left shoulder, before overtaking
other cyclists, to make sure other cyclists are not about
to overtake you.
Cycle helmet or not
It is not required by Danish law to wear a helmet,
but more and more Danes choose to wear one.
Take the bike on the Sub-way (S-Tog)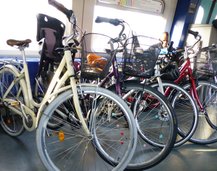 The Danes often bring their bikes on the S-Tog within
greater Copenhagen.
It is free of charge to bring the bike on
the S-Tog.
By train
Fees apply for regional and intercity trains. Tickets
can be bought at the stations.
The don'ts
Accordning to Danish Traffic rules:
do not cycle on the pavement/sidewalk

do not turn right when traffic lights are red, unless it is specifi.ally indicated by a permitting sign post

do not cycle in the opposite direction in one-way streets. However, in some streets in the inner city is allowed (look out for the sign posts).