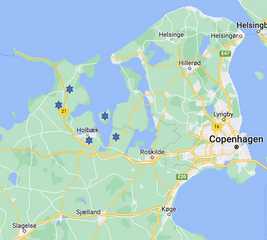 Travel back in time as you head out on daily routes in the spectacular landscape in the western part of Zealand, formed during the Ice Age 10.000 years ago.
Explore history in a nature setting, enjoy a private guided tour of a charming castle from the 1800s, taste Danish food, and take in breathtaking views from hill tops and coastline when you cycle through the UNESCO Global Geopark Odsherred.
We offer this tour in two versions.
A) The tour for adults includes overnight stay in a good tourist hotel + one night in a lovely B&B. Two of the days' distances will be a little longer on this tour.
This tour is an almost all-inclusive tour including entries, guided tour, luggage transfer and all meals (apart from one breakfast and one evening). Full overview of what is included is listed below under prices.
B) The tour for families with children includes overnight stay in a good tourist hotel + one night in a family hut next to an amusement park (entry included in tour price).
This tour is an all-inclusive tour (all meals, entries, tastings and luggage transfer). Full overview of what is included is listed below under prices.
Itinerary:
Day 1 (Wednesday):
Arrival in Holbæk and check-in to hotel. + bike tour A taste of Denmark in the 1940s - ca. 19 km.
Make sure to arrive early so you have time to head out on your first bike tour. Today's thieme is the 1940s. Visit the open air museum Nyvang to get a glimpse of what life was like in the 1940s. Visit the old butcher and dairy shops, and take a lesson of geography in the old school. Stop at the 1940s bakery where your afternoon coffee and cake made from original recipes is waiting for you.
After an afternoon of travelling back in the 1940s its time to return to Holbæk where your Turkish Bath and complimentary fruit is waiting for you. Relaxed and rejuvenated, it's time to enjoy a glass of sparkling wine and your 2-course dinner at the hotel restaurant.
Overnight stay in Holbæk.
Day 2 (Thursday):
Bike tour A taste of Denmark in the 1800s - ca. 38 km.
After breakfast you jump on your bike to cycle back to the 1800s. Today you will be visiting the small and charming white Egholm Castle that dates back to the 1800s, which is located in the beautiful countryside north east of Holhæk. On your way you will cycle over rolling hills, through open landscapes and small quiet villages.
At Egholm Castle you will enjoy your 1800s new traditional lunch. Rikke, who is one of the owners of the castle, will give you a private tour of the castle and tell you about the castle's history and life at the castle in the 1800s. A delightful cake and coffee/tea will be served for you in their private lounge at the castle before it's time to continue this day's bike tour.
Hop on the local ferry at Hammer Bakke and after 6 minutes you are on the tiny island of Orø. Orø has many green paths laid out across the island. From these you can study the many beach and wading birds breeding on this island. Orø can also boast of history going as far back as to the Stone Age when the first humans settled on this small secluded island in the middle of the Isefjord.
Overnight stay in Holbæk.
Day 3 (Friday):
Bike tour A taste of Denmark in the late 1600s - ca. 35 km / ca. 54 km
After breakfast you pack your bags and leave them at the hotel, ready to be picked up and transported to your next destination in the northern part of Odsherred area.
You start by cycling along the beautiful coast with views to the Holbæk Fjord. At one point you will turn away from the coast and into the remarkable north-western part of Zealand called Odsherred, since 2014 known as UNESCO Global Geopark Odsherred due to its unique geological shape. Find your very own local spot to enjoy your lunch-packet prepared for you.
You will stop at the local farm shop Sidinge Gaardbutik for an exclusive tasting of the gold award winning Danish chocolate made by the local chocolatier Mikkel Friis Holm. Chocolate was first introduced in Denmark in 1660, the year when Danish King Frederik 3rd introduced absolutism by eliminating the special political privileges of the nobility and proclaimed the crown fully inheritable, thus giving the king de facto absolute power.
Chocolate was imported from Central America and in the 1660s chocolate was first introduced as a delicious drink, and for many years an indulgence exclusively for the upper classes of society.
At the farm shop you will also get to taste their local produce of apple cider, and perhaps be tempted to taste locally brewed beer while enjoying the view from the very special "tasting-bench" in the village.
After the tastings its time to continue today's bike ride further north through hilly grasslands and spectacular views overlooking farm country. Odsherred is known for its expansive growing of vegetables.
Overnight stay in Odsherred area
Day 4 (Saturday):
Bike tour A taste of the Ice Age - ca. 48 / ca. 52 km
After breakfast and leaving your luggage behind at the reception its time to jump on your bikes to explore more of the UNESCO Global Geopark Odsherred. Today you will be following part of the 390 km Ice Age Cycle Route where you will get to see the fjord landscape and the rolling hills shaped during the ice age.
The route runs along the inner Isefjord, and comes past The Littorina slope, which is a slope formed by the Stone Age sea about 8,800 years ago. The sea border was then much further inland. This means you may be lucky enough to find fossils far from the shoreline.
In Ulkerup Forrest you can experience the story of the disused forest village - maybe you can even hear Ulkerup souls whisper? Continue through Kongsøre Forrest, which has an incredibly rich collection of ancient monuments. Stop at King Øres Grave in the southern part of the woods. The burial chamber was plundered in ancient times, though legend has it that "a golden chain long enough to stretch from the grave to Stokkeberg" (several kilometres away!) still lies in the grave.
At Kongsøre you stop to enjoy your lunch + coffe/tea, which has been prepared for you. After a nice break its time to continue your route along the Ice Age Cycle Route.
Stop at Lammefjord to have a closer look at the Sidinge and Audebo dams where part of the greater Isefjord was dammed in the early 1900s to provide space for growing vegetables. The nutrient-rich fjord bottom is still today offering very special growth conditions for vegetables - especially the Lammefjord carrots are well-known and appreciated across Denmark.
Back in Holbæk its time to relax over a 2-course dinner after a lovely day on your bikes.
Overnight stay in Holbæk
Day 5 (Sunday): Check-out
After some great days of cycling its time to check-out after breakfast.